Summary rating from user's marks. You can set own marks for this article - just click on stars above and press "Accept".
Accept
ASIMO by Honda
Price:
$100,000/mo. to rent, $1M to buy
"Essentially, ASIMO is a personal robot that has been created to transcend the limitations that people have met in the past due to their inability to move the way that they used to."
Back to reviews
Visit website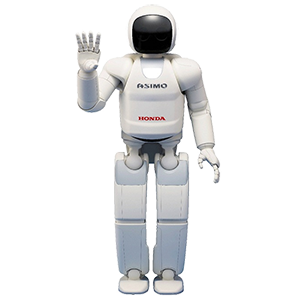 The Honda Corporation has recently built and released the Honda ASIMO Personal Robot. ASIMO is an acronym for Advanced Step in Innovation Mobility. ASIMO by Honda was created to be a helping hand for people who cannot access their full range of mobility. The ASIMO product that is currently available can recognize faces and voices, is autonomous, and utilizes the latest technology to access its features.
ASIMO has an impressive set of actions that it can perform. To start, ASIMO can recognize faces and voices simultaneously, which allows for it to communicate with people on a personal level. Secondly, ASIMO can change its behavior to accommodate its responses to whomever it interacts with. This gives users the chance to experience many different and more personal conversations with ASIMO. It can avoid collisions as it moves around and does this by predicting the direction people around it will take and it watches for obstacles as it goes along. ASIMO can run forward, backward, hop on one or two legs continuously and remain in balance, showing that this is not an ungraceful hunk of metal but a well-designed and smoothly functioning robot. It is an impressive machine considering all that it can do.
ASIMO is an autonomous humanoid robot; its physical appearance looks human because it has a head, torso, two arms, and two legs. Its arms have 34 degrees of freedom and its hands come equipped with five fingers. ASIMO is over 4 feet tall and 1.5 feet wide. It is made of magnesium alloy and covered with plastic resin. ASIMO is durable considering all that it comes with and it weighs approximately 115 pounds. It has many sensors (some located on the face and wrists) to communicate with and register the world around it. On its face, it can see through two camera eyes and has three indicator lights on its chest. The lights represent three different settings that describe ASIMO's current availability and functions, which are "Low-Level Power" (green), "Boot-Up Complete" or "Ready for Operation" (white) and "Ready to Walk" (red). ASIMO is remote controlled and it can be programmed to do simple tasks. It uses the sensors on its legs to help navigate a floor, avoid obstacles and walk up and down a flight of stairs (these tasks are done with little to no pauses or difficulty). ASIMO is an incredibly autonomous device that accesses advanced technology in its everyday functions.
The technology ASIMO accesses as it walks encourages its stability when moving, ability to ascend and descend steps, posture control and battery power. The stability feature stores its walking patterns for starting and accelerating while it walks, stopping and turning ability, walking at a steady speed, and finally, its deceleration when it is finishing walking. The walking patterns are generated independently with the help of its sensors. Using the sensors, ASIMO registers its foot placement, location and turning points while walking smoothly in any direction. ASIMO's mobility tasks come from a program called Intelligent Real-Talk Flexible Walking (i-Walk), which is entirely responsible for ASIMO's mobility. The Posture Control feature helps ASIMO maintain its center of balance. It proactively bends and twists the torso to help prevent foot slippage while it walks, runs, or even stands still. ASIMO, of course, is nothing without its main power source. It comes with a 51.8 volt Lithium Ion (Li-Ion) battery that lasts for an hour on a single charge and it is entirely contained within an attached backpack. The total packaged battery weighs 13 pounds. The technology ASIMO uses is revolutionary and helps ASIMO meet the expectations set for it.
Honda plans to extend ASIMO's abilities as the technology becomes more accessible. The goals for future ASIMO generations includes performing tasks for people who lack full mobility, and to serve as another set of eyes, ears, hands and legs, providing a sense of independence to its owner. This was Honda Corporation's initial intention for ASIMO. When the technology to meet these goals comes into the hands of scientists, there is hope that the ASIMO will be beneficial to the people who need an extra helping hand in their home.
ASIMO has toured the United States and Canada showing off what it can do and why it would be such a great added help to households. For three years, ASIMO traveled thorough California, Washington, Texas, Ohio, New Jersey, Florida, New York, Michigan, North Carolina, Pennsylvania, Massachusetts, Minnesota, Alabama and Washington, D.C. It has also traveled Canada visiting Montreal, Quebec, Toronto, Ontario and Alliston, Ontario. Luckily, its long traveled roadmap placed it back in the heart of California where it was seen in Anaheim at the Disneyland Resort. ASIMO hosted its own 15-minute live show to demonstrate to audiences what it would be like to have a personal robot at home. Those who have viewed the show have gotten excited about ASIMO. The future is approaching sooner than we realize, so ASIMO may be readily available for in-home use sooner than expected.
In summary, the Honda ASIMO Personal Robot is a useful and person-based robot. There is still so much that Honda is aiming for with ASIMO and it is expected that the advancements will appear in future generational models as they become available to the public. The Honda Corporation has made giant leaps with their products in the past and with their reputation it is only expected that they continue this trend.
Essentially, ASIMO is a personal robot that has been created to transcend the limitations that people have met in the past due to their inability to move the way that they used to. With this intention, ASIMO has opened a new chapter of robot and human interaction that goes to show that anything is possible when the right technology is available. This is an interesting personal robot that we have recently discovered and it should be watched for any future developments. It has many expectations to meet in the near future, and is definitely worth inclusion in our list of iReviews 2015 best personal robots.
Related YouTube videos:
Embed: <a href="http://personal-robots.ireviews.com/asimo-honda-review"><img src="http://www1.ireviews.com/images/2015-iReviews-gold-badge.png" alt="ASIMO by Honda iReview"/></a>