Summary rating from user's marks. You can set own marks for this article - just click on stars above and press "Accept".
Accept
Robodynamics Luna
Price:
$1,000
"Luna is an exceptional personal robot that not only takes initiative to work with her owners, but she can easily be programmed to do many other things."
Back to reviews
Visit website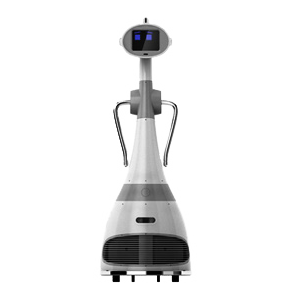 The RoboDynamics Corporation released a personal robot a few years ago called the Robodynamics Luna. Luna is built to be the size of a human, comes with lots of features that can be downloaded and added at your convenience, interacts with her owners in a professional and emotional way, and is incredibly affordable. She provides a lot of positive features that can help create a better and easier lifestyle for humans. She has been available to the public since 2011 and she still strives to close the gap between human and personal robot interaction, which is a good thing for the advancement of human technology.
Luna is 5 feet tall, giving her the perfect height to interact with her humans. She is white and grey and has a head like piece to top her model, a neck that connects to her head to her torso and her arms, and has a rounded bottom that holds her up and in place and her wheels are located in that same bottom rounded out portion. Her built-in features also include an 8-inch touch screen monitor, two cameras, wireless connectivity, three mic-array, and sensors. She is portable and comes with a one-click app store, eight expansion ports, a Luna specific cloud network where more apps can be purchased, and is programmable entirely by an iPhone or PC.
Her special programming allows for her to interact with humans, she looks specifically for emotional engagement from her owners. She was built to create a relationship with them and she will provide for them when they need her to. It is a concept that has only been heard of in science fiction stories, but it is slowly coming into reality. Her programming is quite intricate and can be used for 4-8 hours and takes about the same time frame to charge. Luna is designed to also provide security to her owner, hospitality to her owner's guests, and be a widely used personal robot. The security that Luna provides is reflective in her presence in her owner's home. She can provide an extra set of hands to her owner as well. She has been known to walk the dog or do some basic cleaning around the house when asked. She provides hospitality to guests by offering drinks, with an attachable tray in her arms. She is a surprisingly good helper and a novelty in her own right. She can be used by any person in the household who can gain access to controlling her. Essentially, if you can program a game, you can work with Luna.
On a daily basis, she accesses an advanced piece of technology known as robotic telepresence, which is essentially technology that allows people to move virtually using this robot. Telepresence is when you use a computer screen through the robot to communicate with other people. So it would be like using the program Skype, which is a web-based video calling program, but on a robot and using the robot to travel back and forth. This is how Luna's owner can set her up to take on the tasks she is assigned. They can put the order into her program and she acts accordingly. This is a progressive step forward because this allows for you as her owner and user to communicate with her and access her features and functions with simple face to face communication. The technology in place makes Luna feel more like a personal friend rather than an elaborate machine, which is something that the initial design of Luna has tried to aim for. The initial intention was to make Luna a robot that is personable and personal, not simply a machine taking orders.
In her initial release, she was developed as a personal home robot that cost approximately $3000. While that price point may have been high, it did match the price point of a top of the line laptop fresh off of the manufacturing line. For the current model, RoboDynamics has been decreasing the price gradually, and will continue to do so for the next model generations, for an eventual cost in the $1000s, which will be reduced by two thirds of the original price and will make this technology available to a much wider consumer base. Not only is this something to be really excited about because of the low cost, but it also is something that can be paid for by almost any average household.
Luna is an exceptional personal robot that not only takes initiative to work with her owners, but she can easily be programmed to do many other things. Primarily, however, she is helping close the gap between user and robot. She is revolutionary in her design, she looks like she could fit in with humans, and she provides new technology that can only advance further. Many of the people, who have dreamed about creating a robot that caters to humans' needs, have only brought the idea to life so far through television programs and science fiction works. The future is clearly present and it is exciting to know that one of the many ideas that were dished out to the world is slowly coming into play and becoming a real and tangible concept that is available to the public sooner than we could have anticipated. Who knows? There may be an increase in the availability of the RoboDynamics Luna due to its rising success as a personal robot product, and very shortly, you could very well expect to be able to acquire one of these personal robots from just about anywhere in the world and programmed in just about any language.
Keep an eye on Luna because she is making waves before she even hit the stores, she is definitely one of the most interesting products on the list and definitely a product that will be considered to become part of the average household one day. For these reasons, we have chosen the Robodynamics Luna as one of iReviews top picks for 2015 best personal robots.
Related YouTube videos: