Summary rating from user's marks. You can set own marks for this article - just click on stars above and press "Accept".
Accept
Willow Garage PR2
Price:
$280,000-$400,000
Pros:
1. Great for developers
2. Comes in a more affordable one-armed model
Cons:
1. Short battery life
Back to reviews
Visit website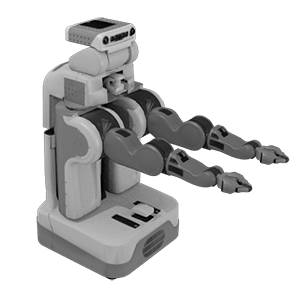 The Willow Garage PR2 is one of the latest in innovative personal robots that are currently available to the consumer market. Although we have seen a lot of personal robot concepts in the last 5 or 10 years, many of which are capable of some amazing, near-human things, there are very few that have transcended the concept phase and have become a purchasable reality. Although the PR2 is indeed a purchasable reality, it isn't necessarily as affordable as a couple other personal robots on our list. Even at a reduced cost of $280,000 for the one-armed model, this purchase is not for the home enthusiast on a budget nor the faint of heart.
Whether you choose the one-armed model or go with the two-armed model at $400,000, you get an intuitive and extremely powerful robot that can be quickly and easily programmed to do some pretty cool things. In demonstrations we have seen, the PR2 can do things like shoot pool, fetch items from just about any reachable location, give hugs, fold laundry and much, much more. Willow Garage pledges that, right out of the box, you can start developing your own robotic protocols and tasks without the need to build any custom hardware or software. Before you know it, you are increasing productivity at work, receiving assistance with chores and gaining a playmate all in one.
The PR2 is extremely mobile as well, allowing it to navigate just about any environment, and possesses extraordinary dexterity and grip as well, allowing it to grasp and manipulate a wide variety of objects. The precision that comes with robotic technology allows for completion of repetitive motion tasks, allowing you to be free to engage in other activities and keep your mind on more important things that require constant thought. Coupled with a development platform that contains over 1,000 software libraries, there are seemingly no limits to what this robot can do in an industrial or engineering environment. The platform also allows you to share the results of development and tests with others, so everyone can benefit from each other's work and time invested in their own solutions, dramatically reducing the learning curve for others and saving countless hours of time.
To assist with your development needs and any problems that may occur, an excellent development community is there to answer questions you may have. There is also a ticket-based system that can be used to help with troubleshooting and reporting bugs that are found in the system. You also receive access to thorough documentation, including a user manual, modularity specs, replacement guide and repair guide. In just one week, you can prototype such functions as fetching a beer, playing pool or cleaning up with a cart.
The three key parts of the PR2 system are arms, mobility and sensors. You get back drivable arms that can operate in the tightest of conditions, spring counterbalances that keep the arms in a position without having to use power and wrists and gripper hands with lots of torque to allow manipulation of most objects. For mobility, you get a telescoping spine and a drive base that can run a marathon. For sensors, you get mono-stereo with texture projector, wide field of view color stereo, 5MP camera, tilting LIDAR, base LIDAR, IMU, pan/tilt platform, forearm cameras and gripper tip sensors.
Overall, we have found the Willow Garage PR2 to be a very promising entry into the consumer market and worthy of inclusion on our list of iReviews 2015 best personal robots.
Related YouTube videos:
Embed: <a href="http://personal-robots.ireviews.com/willow-garage-pr2-review"><img src="http://www1.ireviews.com/images/2015-iReviews-silver-badge.png" alt="Willow Garage PR2 iReview"/></a>