Summary rating from user's marks. You can set own marks for this article - just click on stars above and press "Accept".
Accept
NEC PaPeRo
"The PaPeRo has many uses that consumers can utilize in a way that make other technological devices pale in comparison."
---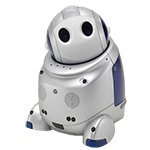 The PaPeRo robot was developed by NEC, a Japanese based corporation. The PaPeRo name is an acronym for "Partner Personal Robot" and it is one of the highest rated personal robotic products on the market today. The NEC PaPeRo is no more than 10 inches tall, weighs 5.5 pounds, and was developed specifically for human interaction. The small device has various functions that can be accessed by users and are made to ease interaction between humans and robots. A few of its functions include speech and face recognition, touch sensors, autonomy, and it also has other functions that vary in the software. The functions are what make this product stand out in comparison to others.
Speech recognition allows the PaPeRo to recognize 200 words and contains speech synthesis and condition detection. 200 words is the base number and with software updates the number can increase, which it does over time. The synthesis function allows for the PaPeRo to speak with a natural and cute voice. It almost sounds like a small robotic baby and is considered to be less intimidating than an adult voice can be. Finally, condition detection is used by PaPeRo to alert you if you are speaking too loudly or too softly. This has been known to clear up any chance of misunderstanding by the PaPeRo and opens up clearer communication between the user and robot.
Face recognition allows PaPeRo to find users from images on the CCD camera that comes standard. It can memorize up to 30 faces with its facial identification capabilities and does so while fast tracking. Fast tracking is when PaPeRo interacts and memorizes the user's face while looking right at it. The PaPeRo essentially uses eye contact in order to recognize and memorize the faces.
The PaPeRo's touch sensor is used to react differently to different touches. For example, a sensor is located on the head, and when touched, it will make PaPeRo appear happy because it represents a petting sensation. Another sensor is located on the midsection or belly area of the PaPeRo and activating that sensor simulates tickling, which will cause PaPeRo to laugh as if it were tickled.
The PaPeRo's autonomy feature utilizes a technology that allows it to walk around by itself and self-charge when necessary. The user has to be careful to not step on the PaPeRo accidentally, because it can move around the house on its own, although typically it would be used on a flat surface.
Other functions include quizzes, games and sending messages, and also acts as a remote control in most cases. The quizzes and games allow for the user and the PaPeRo to play together and enjoy an experience that is more playful than it is professional. Secondly, the messages the PaPeRo conveys to the user allows for the user to become aware of what the PaPeRo is doing. For example, while the user wants to utilize the PaPeRo when the battery is low, the PaPeRo will alert the user that it needs to go charge its battery. The user can then quit the program that they are on, and the PaPeRo is then free to go charge itself. Finally, the PaPeRo is able to be used as a remote control of sorts. It will automatically connect itself to your PC, television, mobile phone or any other wireless network, in order to act as a voice activated control for the device. It calls for the robot to be a huge help to the user.
From the description of the features that the NEC PaPeRo includes, it is easy to see that this robot is revolutionary. The product itself is developed to make the life of the user easier and provides for entertainment. The NEC PaPeRo was also reported to have been built specifically for the elderly, young students and various office spaces in order to provide extra assistance in those settings when required. For the elderly, the PaPeRo offers a kind of companionship that is harder for those to find after a certain age, and it was built with this function to maintain itself as a positive partner for a group that is often stigmatized for needing the kind of constant companionship that has been often hard to provide. For young students, the PaPeRo can have educational games downloaded into its software and can interact with young minds to play the games and to ensure that the child is learning something. Also, its non-intimidating exterior provides appeal to constantly use the product, and it looks like a toy, so it is more likely that children will want to use it. It should also be noted that because it looks like a toy, the user should take care to ensure that it is handled carefully and not easily thrown about and destroyed accidentally. Finally, because the PaPeRo utilizes facial and speech recognition, it could be used as a receptionist aid to ensure that corporate security measures are upheld in a way that may fail with regular human error involved.
Overall, the PaPeRo has many uses that consumers can utilize in a way that make other technological devices pale in comparison. Unfortunately, it is not currently available for purchase or rent because of the high demand. However, when they are available, you can expect that this robot will not last on the market for too long. Also as a result of the popularity of the product, the consumer would assume and expect the price point to be high. It may not be affordable to the average person, but it is an excellent personal robot, and shows the lengths that technology has come in the recent years. The robot is exceptional in its design and the functions that it provides to users of all ages. It would be interesting to see the kind of impact that it can make in daily tasks as it becomes widely used by the general public.
This personal robot is definitely one that can be expected to leave an impressionable mark on future designs, and it is for that reason that we rate the NEC PaPeRo as one of iReviews top picks for 2014 best personal robots.
Related YouTube videos: